Join U.S. Ambassador Eric S. Rubin and Nicole Simmons for the opening of:
COLORS AND LINES ART EXHIBIT
Works in oil by Silvia Pavlova  Wire art of Tihomir Todorov
An exhibition in the Expressive Landscapes Series
Presented by International Art Bansko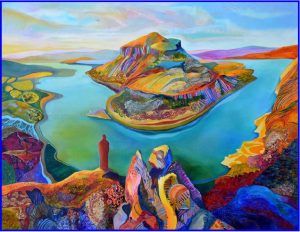 When: 18:30-21:00, Tuesday, 28 November / Вторник, 28 ноември
Who's Invited: All friends of the American Embassy in Bulgaria
Поканени са всички приятели на Посолството на САЩ в България
Where: Ambassador's Residence, 18 Veliko Tarnovo St., Sofia.
В резиденцията на посланика на САЩ, ул. «Велико Търново» № 18.
Потвърдете присъствие като изпратите имейл на /RSVP to: Sofia_Protocol@state.gov
Please provide the names and contact information for each attendee.
Моля, посочете имената и информацията за контакт за всеки гост
For security and access purposes, RSVPs are required by Nov. 26 and guests must show photo identification.
С цел сигурност и осигуряване на достъп до събитието, молим да потвърдите присъствието си
в срок до 26 ноември, както и молим гостите да носят документ за самоличност със снимка!