Explore USA Conference presented to Bulgarian companies the unique opportunities that the American market offers. Also, it show-cased various success stories that made their break-through over the Atlantic. Leading experts from AmCham Bulgaria membership shared useful advice in the sphere of taxation, legal aspects, real estate, banking, and visa regimes.
Institutional support from D.C.
The trade between the U.S. and Bulgaria in 2018 peaked in BGN 3 billion in both directions. In this amount is included American investments in Bulgaria est. at BGN 1.6 billion, Bulgarian investments in the United States at app. BGN 1 billion, and income from at least 100,000 tourists. It was said by Ivo Constantinov, Commercial Attache of Bulgaria in Washington D.C.
"We haven't observed such turnover so far. In the complex world we live in, Bulgaria must and it already discovers its business niches – those market segments where it has competitive advantage. The stake for the Bulgarian companies is extremely high, because America sells its market access at a costly price compared to our standards. The shelf of a retail store is the most valuable and expensive asset, and the access to the retail chain goes through importer, distributor, buyer," Konstantinov said. His presentation was full of series of examples of the ways to enter at the American market. He gave also valuable tips for business culture, communications, and he shared his accumulated experience gained while helping tens or even hundreds of companies which dare to come to America.
No matter happens – Do Not Quit
"To start a business in the U.S., I learnt three things. If you don't succeed in the first year, don't quit. If you don't succeed in your second attempt – do not quit. When the third year comes to its end – you already know what to do," said Krassen Kyurkchiev, Co-founder and CEO of Ficosota. "In America it has to be you on the ground – the one who is the decision maker – this is the only way to be accepted and to succeed. Our energy bars compete with other 2,000 bars of different brands in a market operated by 700 retail chains., where each store has between 40 000 and 50 000," he added. This is the essence of the gained experience of the past four years of U.S. operations of Ficosota.
"In the United States it is crystal clear: rules have to be followed. It is a true fact that their administration works well, and the licenses and registrations are few," concluded Kyurkchiev.
Innovations and an University as success formula
"We did our break through with innovation and with cooperation with Harvard University," said Kiril Petkov, CEO of ProViotic. They sell their probiotics and other supplements in retail chains and more than 4,500 pharmacies in the USA. Their product is based on the famous Lactobacillus Bulgaricus. "In the beginning we invested USD 200,000 in joint research with the Harvard University. For us it was extremely successful move which gained synergy with co-branding with Harvard and saved us plenty of advertisement costs," explained Petkov.
There is no success with copy-paste
"Philicon" imports its fruit and vegetable products, juices and nectars in the States for 15 years. "We have found the right partners, we have won the ethnic minorities in America, and we are considering to establish production there too," told the audience Ivan Kalibatsev, Board Member of "Philicon". "With copy/paste you will not succeed in America. I would like to recommend to listen to your partners, to find out what does your product makes it special, and you have to follow the recent trends too," concluded Kalibatsev.
America Loves Bold
The common feature between Bulpros Consulting and Walltopia is the early break-through on the American market and rapid expansion.
Ivaylo Slavov, cofounder and CEO of Bulpros, and AmCham Board Member, told his professional story full of obstacles but also with satisfaction when the first couple of contracts in the U.S. are sealed. "It was tough but we signed contract with the World Bank. Bulpros is the only European company that has such achievement," he pointed out.
"We work in a global competition. To me it means that there are no boundaries for doing business and challenging success. That is why in Bulgaria together with AmCham want to create an environment in which we will be able to develop the digital economy and thus – we can grow together," shaped a dream Slavov.
"We have invested a lot in our U.S team, we have the right people in place. They can be at our clients in two hours and to listen what does he/she want," explained Irina Staneva, Investments Manager, Walltopia.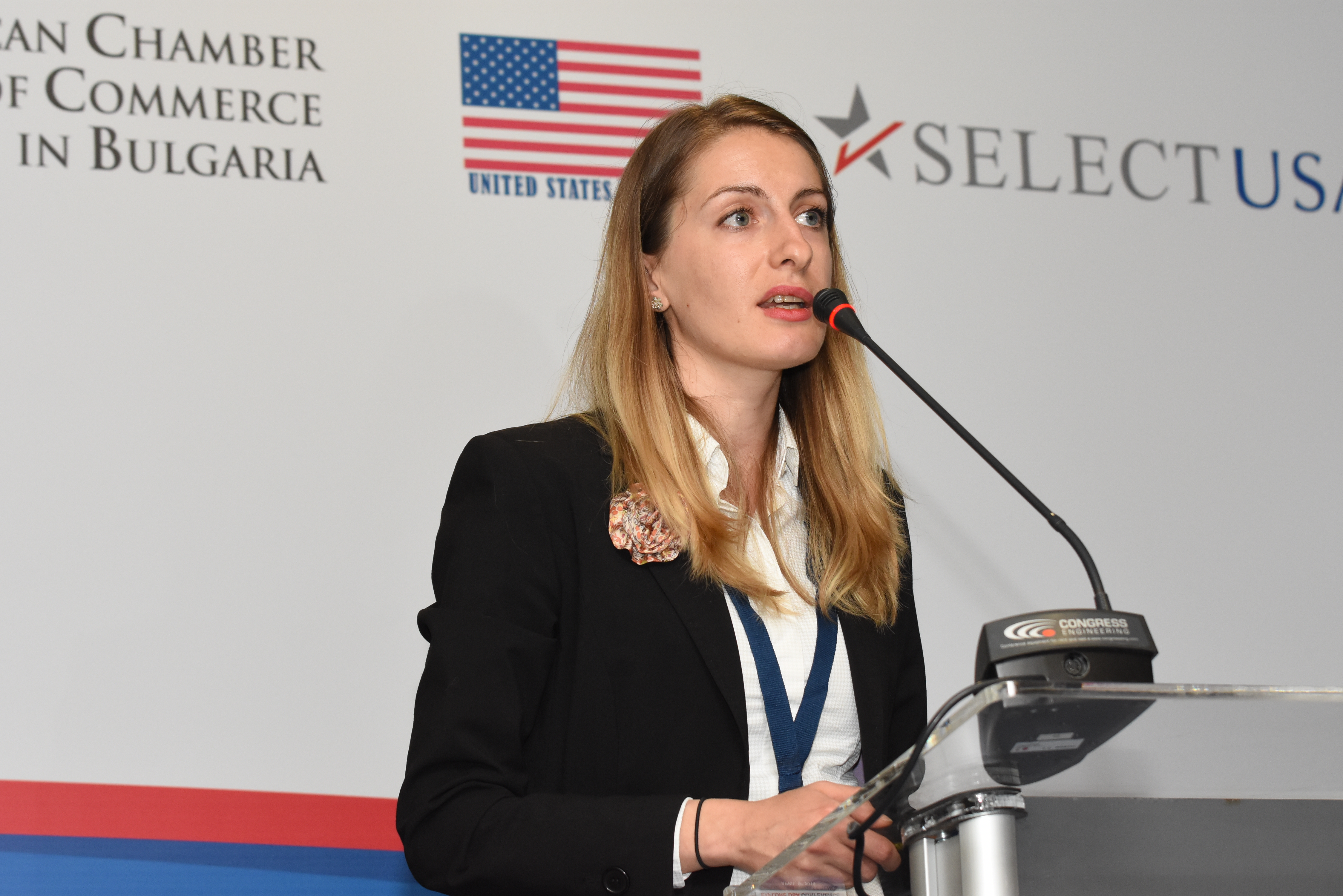 The company operates its American operations in 10 years now: they build and manage climbing walls and sports halls, as well as products for entertainment centers and a franchise concept for children climbing walls.
SelectUSA
SelectUSA Program is a multifaceted tool created to support non-American businesses to start their operations in the U.S. it facilitates and eases the investments in America since 2011 and is run by The U.S. Trade Department. SelectUSA offers free of charge consultations and information to its clients, network of valuable contacts in all fifty U.S. states along with people with vast professional experience. It is a portal through which new businesses can get access in various departments and agencies in the U.S.
"We offer services in multiple sectors of the economy to all companies, no matter of their size which have decided to invest or to expand their business in America," explained Dr. Jana Dorband, Senior Commercial Specialist at the U.S. Embassy in Berlin and who manages SelectUSA for several European countries.
"We can gather all required data that will allow you make a decision – for example energy prices, average salaries, legal regulations in different states, logistics, industrial clusters and the opportunities they offer. With our program you can have access to companies that you never existed," explained Dorband. SelectUSA helps to find answers directly in Washington D.C. – visa, legal base, as well as to how to enter into grant programs of the U.S. government for example.
U.S. Consumers Needs
The third business panel was moderated by Marchela Abrasheva, Regional SEE Manager of Kantar. She presented the changes of the behavior of the American consumers with regard the digital content, devices, and platforms, as well as to implement flexible marketing strategies to enter and to sustain at the U.S. market.
Petar Mitev, co-founder and CEO of Chaos Group shared their success story in the development of the software for motion graphics that is being used in some of the blockbusters of Holliwood.
Ivan Bogev, CEO, EWC Holding Group, shared his experience with the SelectUSA Summit. He pointed out on the importance of participation at this high-level conference where you can meet economic representatives of all fifty U.S. states. "it is good each company to realize which state suits it better for starting a business there."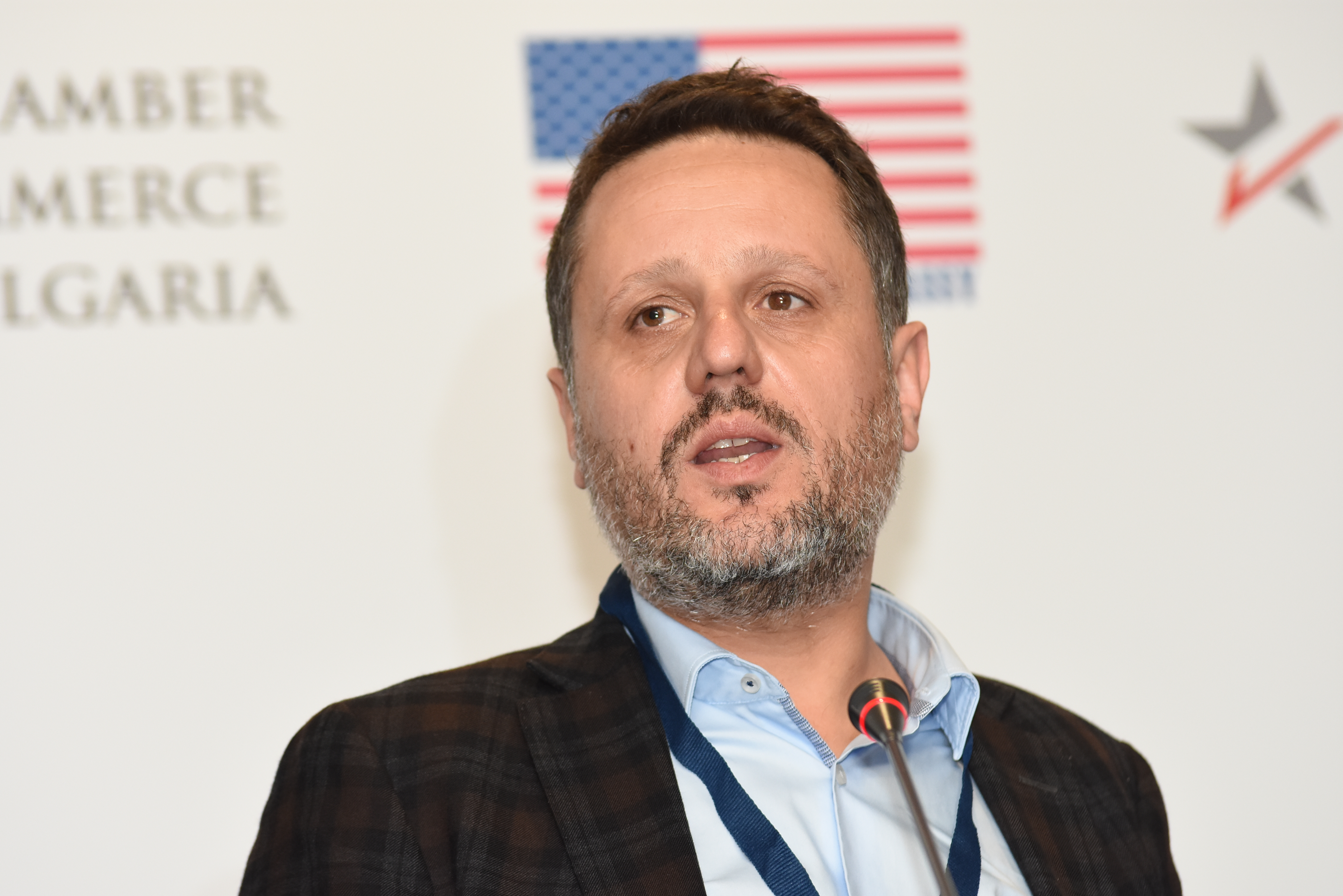 Sevdalin Spasov, CEO, M Holding, presented the specifics of the secondary clothes market and his business development success story. "Each success story starts in a garage. Today we are operating franchise retail chain in Bulgaria and Greece, and we have some solid business in the States too, with which contribute for the development of the circular economy and meeting the demand and needs of young people too," shared his epxeirece in the U.S. Spasov.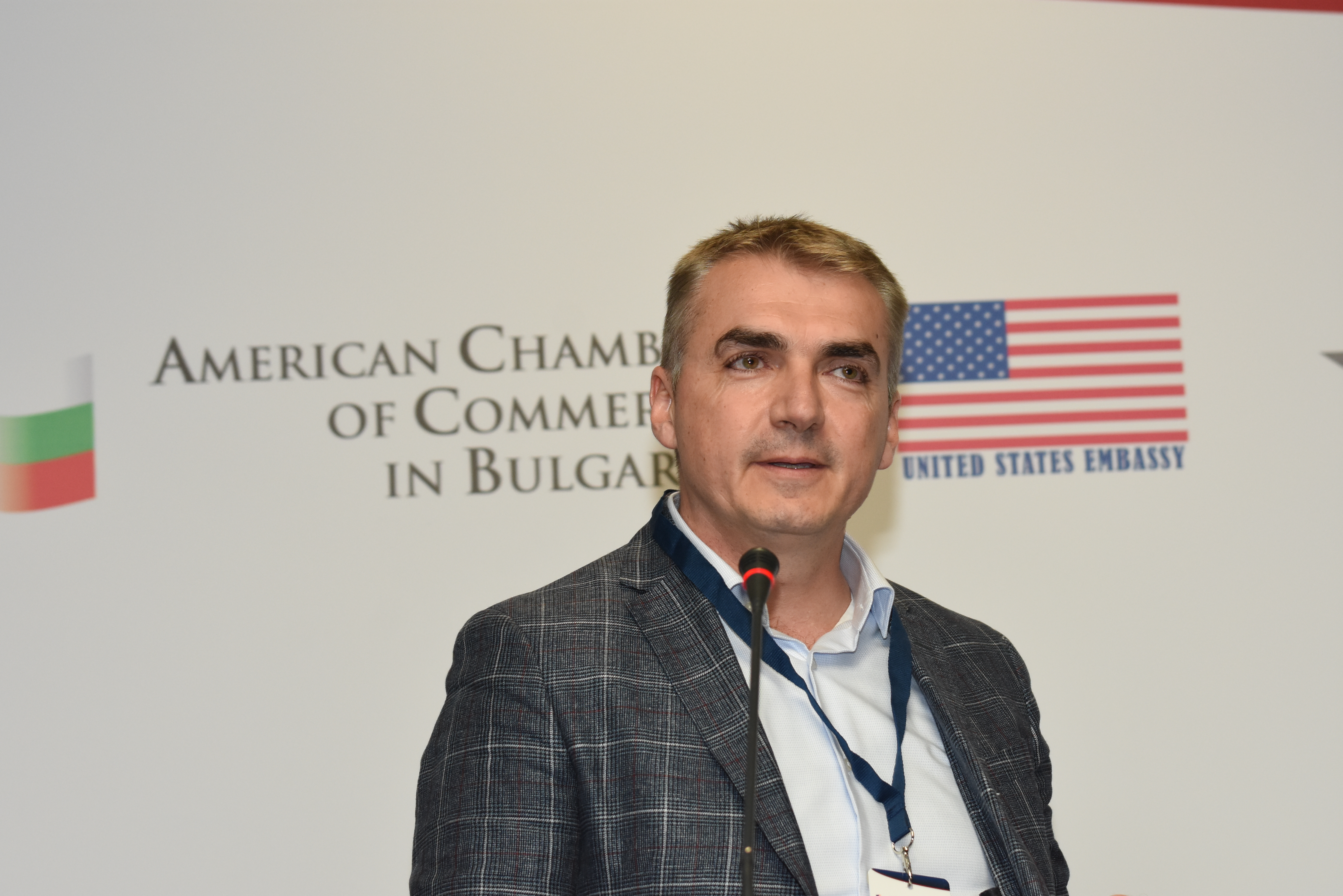 Milena Videnova, Managing Director, Coface Bulgaria presented the strong and weak sides of the American economy. She described the main social-economic indicators that influence the risk assessment of the United States as a global economy No.1. Ms. Videnova also she pointed out the sectors with high or low risk in the American economy.
Ivelina Minkova from Malincho Inc. summed-up the practical steps which the entering businesses in FMCG sector have to do in order to succeed. "There are many rules and specifics, especially in the Food and Beverages, with which each importer to the U.S. has to comply," thoroughly presented Ivelina Minkova.
No pink life without consultants
The fourth panel gathered five strategically important consultants that can advise for a successful entry in the U.S. market.
Key aspects of the legal perspective in the starting and managing busiess in the Sates were presented by Omourtag Petkov, Partner, DGKV (Djingov, Gouginski, Kyuchukov, Velitchkov Law Firm).
The tax structure and practical solutions for compliance with the taxation system of the USA were explained by Atanas Sabev, Tax Manager, PwC Bulgaria. "Since 2017 the USA introduced federal flat tax at 21%. On top of it each state has the right to determine its own tax levels and they vary according the economy development of different states," pointed out Sabev.
Svetoslav Pintev, Financial and Trade Manager, Citibank Europe plc – Bulgaria Branch, presented the opportunities which Citi offers to their clients in a global scale. "Based on the different export models which companies implement, the type of the most suitable financing can be defined. Many other factors are being considered too, which Citi reviews carefully."
Iglika Yordanova, Managing Partner, Colliers International, presented the condition and the perspectives in front of the American office and industrial spaces market. She shared her views about the attitude and their change towards the office demand. "Main engine of development for the industrial zones development is the expansion of e-commerce. It has to be considered the work force demands and the business specifics when the final decisions are made," pointed out Yordanova.
---
Next Destination – America
Between June 10-12, 2019 the United States host the high-level SelectUSA Investment Summit. It is expected representatives of all fifty U.S. states to be present.
"This event presents unique opportunities to build on what you will hear today, as well as to find new contacts, and to turn your dreams into reality. The conference attracts  more than 2,800 multinational, SMEs, startups, as well as around 1,200 global business investors from 60 international markets," pointed Justin Friedman during the Bulgarian Explore USA Forum.
---
Related Links