There is enough labor force for the private sector, including among people with disabilities and other vulnerable groups. They just have to be found and integrated at the labor market adequately. That is the main conclusion of the third meet up of the "Diversity pays off" initiative which took place on 28th of March at Starbucks on 1 Saborna str., who hosted the event, while opening their newest restaurant in Varna at the very same day. The meeting was dedicated to the state of the labor market and the options for integration of people from vulnerable groups.
Svetlozar Petrov, manager of JobTiger, a company for complex HR services, did an overview of the labor market in Bulgaria: low levels of unemployment within large urban areas, significant correlation between the demand and the level of education, low levels of readiness for mobility compared to statistics within other European countries. He also underlined that there are communities with high levels of marginalization where unemployment is permanently high; however it is not based on ethnic origin, but rather on geographic residence.
Bulgarian youth, who graduated university during the last 5 years are not registered with the labor offices. Unemployment among them is as low as 2,4%, said Georgui Stotytchev, executive director of the Open Society Institute – Sofia, who quoted data from the Bulgarian University Rating System. 80% of those, who graduated university during the last five years enter successfully the labor market in Bulgaria and their average insurance income is more than 20% higher than the average for the country. He pointed out 2 negative trends: 1) half of the university graduates work on positions which do not require university education and 2) during the last 5 years the number of university students in Bulgaria has dropped down with 40 000, which means that means that labor force will become more and more deficit.
Nadya Mihova HR Manager at EY Bulgaria said that "People with disabilities need additional preparation and qualification before beng employed. They have to be aware that they are being employed not because of the quotas, but because of their skills". That was her response to Ashod Derandonyan from Listen up Foundation, who asked for a comment on the last legal amendments related to the people with disabilities. "Yes, there should be an accent on the education of people with disabilities, because significant part of them is currently out of the labor market" said Mr. Derandonyan.
Milen Velikov, and HR expert who has implemented multiple surveys in the HR field was a key speaker too. "My surveys among employers show that diversity is on third position among their values, while the tolerance is on the 10th". Nadya Mihova replied with a comment that whatever policy managers decide to apply officially in their company it will not succeed if people do not bear those values within themselves. Otherwise those policies will simply remain on paper.
Other HR experts and NGO representatives also took park in the discussion. Nevena Taneva, HR at the SAP Labs, announced that on April 9, following the International Roma Day on April 8, SAP Labs is organizing an event titled "Beyond Stereotypes" in partnership with the Bridge to Business Program. She also expressed her positive impressions by the young Roma who have visited their office the day before and said that they are as ready and welcome to apply for job within SAP Labs as everyone else. (On 27th and 28th of March twenty young Roma, participants in the Bridge to Business Program, visited offices of private companies is Sofia. That "mini-internship" has been hosted by Coca Cola HBC, Sirma Solutions, EnhanCV, Lidl Bulgaria, Sap Labs, JobTiger and EY Bulgaria).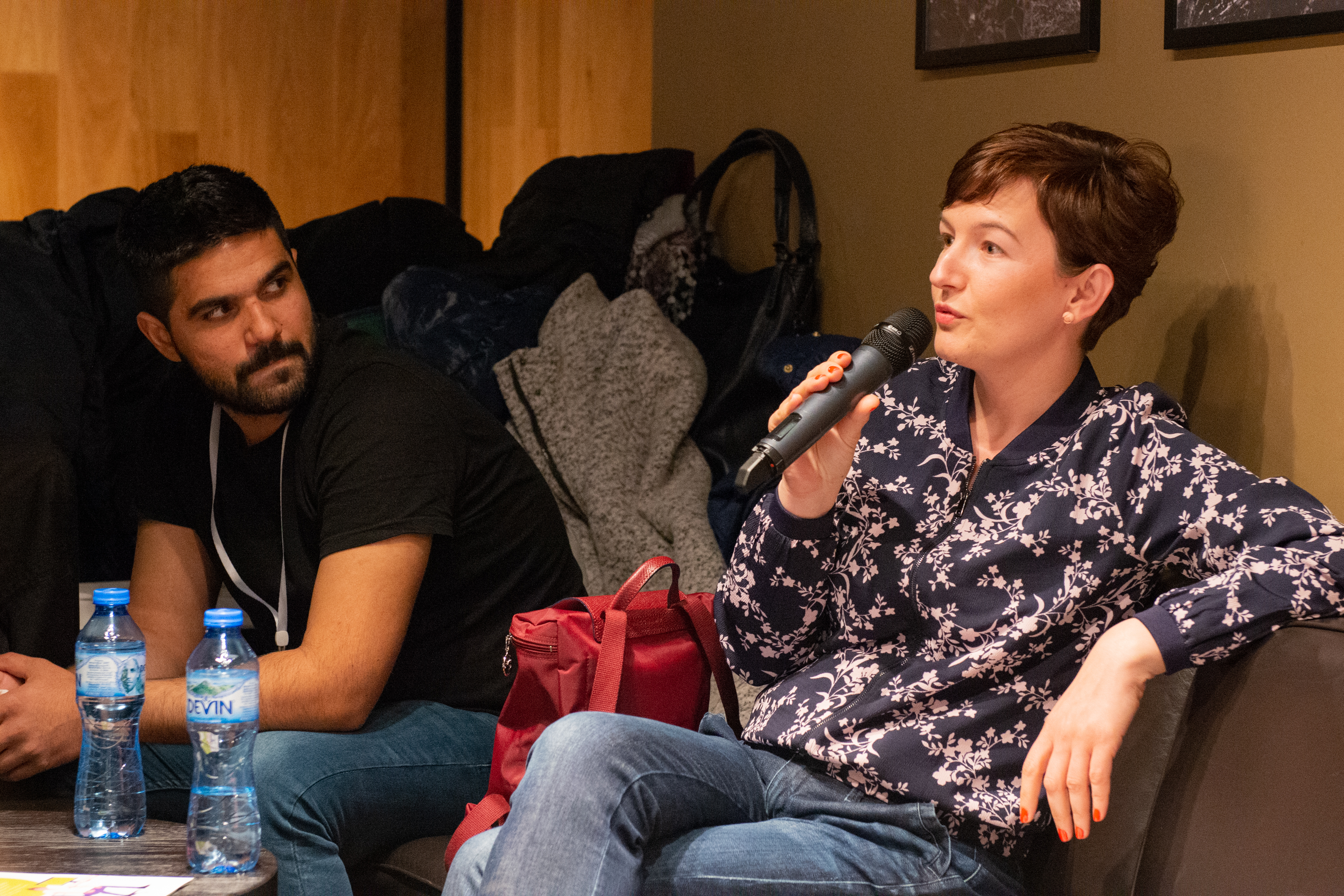 A web site for diversity in business has been announced. The web address is here and will provide information related to diversity in corporate environment.
---
Next Diversity Pays Off event will take place on June 13 within the final conference of the Bridge to Business program. For more information: http://bridgetobusiness.eu