On Wednesday, April 24th, the AmCham Bulgaria organized the first meeting of the Bulgarian Digital Sustainability Forum. Main topic of the discussion was ethics and trustworthiness of Artificial Intelligence. The event was organized under the patronage of the EU Commissioner for Digital Economy and Society Mariya Gabriel and received important key-messages and views from the Minister of Transport, Information Technology and Communications Rossen Zhelyazkov. The discussion was organized by the Digital Committee of the Chamber and gathered more than 30 industrial, societal and political key stakeholders who discussed the ethical dimensions of AI, the sectorial profiling of Bulgaria and their economic and social impact on the country and the SEE Region.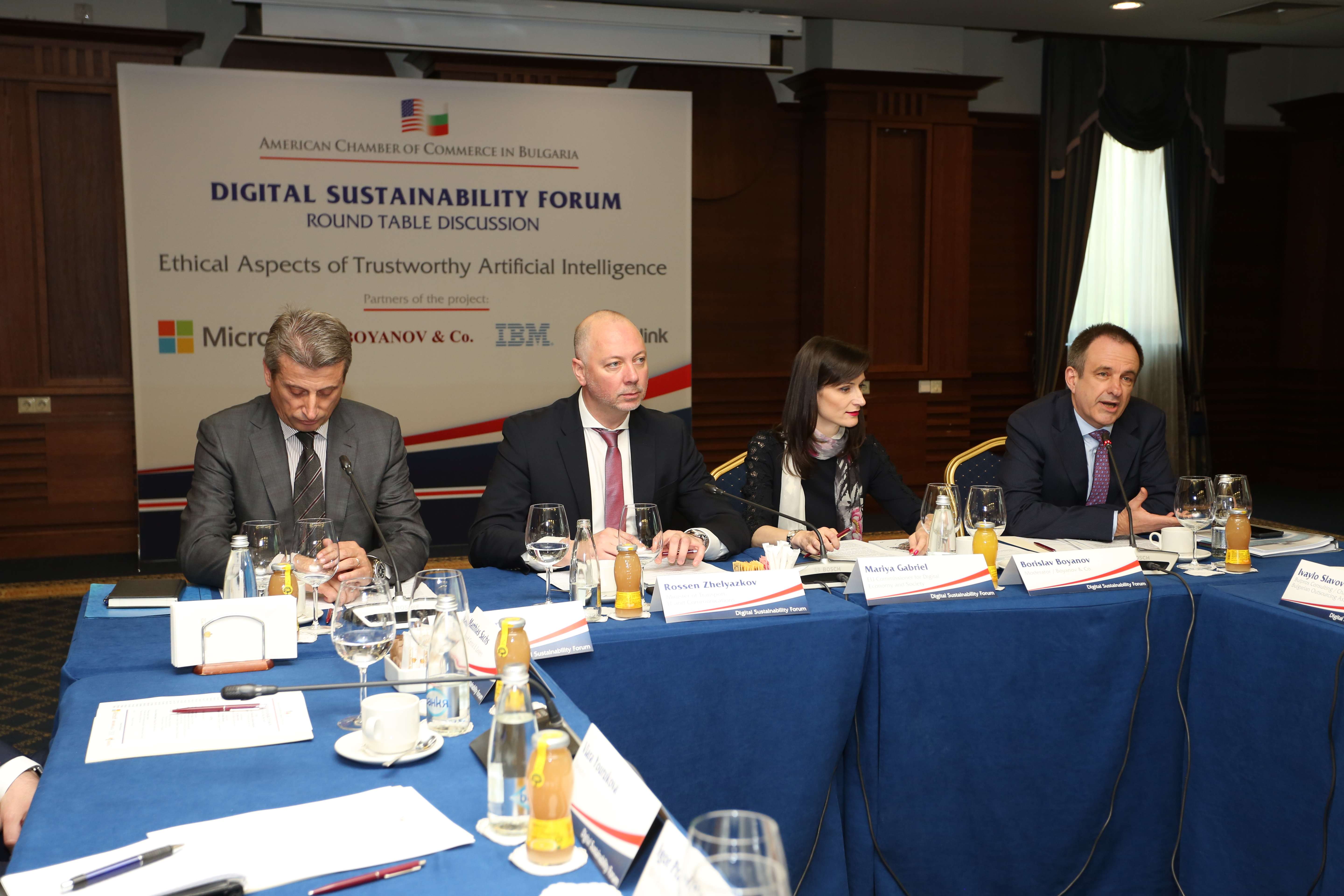 AmCham Bulgaria took the leadership in the process for Bulgaria designing the Digital Sustainability Forum. This initiative will use bottom-up approach by collecting proposal from the involved stakeholders and with the active cooperation and dialog with the national and European institutions will focus on the ethical, political and legal aspects of AI and its future implementation in various sectors of the economy of the country. The people around the table agreed that the specific Bulgarian interests and needs around AI haven't been addressed sufficiently yet, and such an initiative is an opportunity that has to be explored and to lead to fruitful result.
The event was moderated by Borislav Boyanov, Managing Partner, Boyanov and Co. Among the participants were: Petar T. Ivanov, Executive Director of AmCham Bulgaria, Ivaylo Slavov, Board Member, Co-Chair of the Digital Committee, Chairman of the Bulgarian Outsourcing Association, Co-founder of Bulpros; George Alexandrov, Board Member, Co-Chair of the E-Government Committee, Managing Director of Oracle for Bulgaria; Levon Hampartzoumian, Board Member, UniCredit Bulbank; Ognian Trajanov, Chairman, BAIT, founder of TechnoLogica; Natanail Stefanov, Chairman, BESCO, Matthias Sachs, Director Corporate Affairs (Europe), Microsoft Corporation, Iravan Hira, General Manager of HPE Bulgaria, operated by Selectium, and other members and representatives of relevant government institutions.
Commissioner Gabriel overviewed the EC's efforts to create a business and social environment in Europe based on the ethical principles, usage of advanced technologies and based on solid national AI strategies. Ms. Gabriel highlighted the seven principles recently published by the High-level Expert Group of the EU Commission.
Minister Zhelyazkov shared his views with regard the ethical aspects of the technologies and how they can impact values such as solidarity, justices, equality.
"Human is in the center of the Europe's strategy for AI. And the topics of ethics in technologies is probably the most important one. All we have as rights and freedoms must be considered in the development of the artificial intellect," pointed Minister Zhelyazkov.
---
As a result of the first meeting, there will be a draft version of the proposals.
---