Mr. Brun, you have been with P&G for 25 years now. How do you feel about the company operations in this period?
Beyond its impact on the population's health, there is no doubt that the COVID-19 crisis will have a significant impact on the economy as well. The current global situation poses unprecedented challenges for everyone personally and professionally and the months ahead will probably be quite volatile and dynamic.
Since the onset of the crisis, we at P&G set 3 clear priorities. First and foremost, protect the health and well-being of P&G people; second, serve consumers around the world, who count on our trusted brands and the benefits they provide. And third, support the communities we live in. I would like to start thanking the P&G people for all the amazing things they have been doing – taking care of themselves and each other, working hard to bring the trusted brands that help people take care of their personal & home health and hygiene and also supporting our local communities and those being on the front lines of this global pandemic. We always say that we see people's character in times of crisis, I am humbled to witness how committed and driven the P&G SEE teams are, people are clearly our most valuable assets even more in such times!
Could you tell us a bit more about these priorities?
Starting with our own people, which was and still is number one priority. Early on, with guidance from medical professionals, we have evaluated – and never actually stopped updating – the robust measures already in place to help our people stay safe at work. Temperature scans, shift rotations, physical distancing and methodical cleaning of all working areas were some of the measures we took from the onset of the crisis. We were blessed to have in place industry leading benefit plans and flexible work arrangements which proved invaluable in enabling fast solutions to keep our people safe; solutions such as – paid leave, comprehensive medical care, work from home were activated to maintain the organization healthy and operational. I can proudly say that since the beginning of the crisis P&G SEE has been "Winning From Home" for a big part of our employees. I also take advantage to warmly thank those employees who because of the nature of their work in stores, manufacturing plants and distribution centres have continued to go to work as we were able to provide them with all the needed safety equipment and work conditions.
Serving consumers became even more relevant as our products play a critical role to help consumers take of care of their hygiene. Some products such as dish cleaners became in high demand as consumers take all meals at home. We knew how important it would be to maintain the production and distribution of our brands to the market so that to continue supplying our customers and consumers with their daily essentials during this challenging period. I have to say how proud I am with how everyone at P&G has been working diligently to maintain the availability of the P&G brands in the market from production, packing, supply chain and in store merchandising.
Last but not least, P&G has a long history of supporting communities in times of need — and during this crisis we have stepped up as a Force for Good partnering with more than 200 NGOs and relief agencies globally to help combat the Pandemic. In Bulgaria , P&G products and monetary contribution have been donated to support the frontline medical staff and the local health system with the necessary equipment and daily essentials to help manage the crisis. Everyday thanks to P&G people and our partner institutions, thousands of P&G products were shipped out of our warehouses to reach the most vulnerable people in our communities across the region who had no access to the cleaning, health and hygiene benefits P&G brands can provide.
All this has been truly inspiring and, frankly, it kept on generating the energy for all of us to get through this challenge. P&Gers have been coming together like never before, making a difference for our people and our communities.
How do you expect the categories in which you play to evolve in the next months?
We play on categories of essential goods in the areas of hygiene and personal & beauty care. Those categories have become even more important to consumers who spend more time at home and are paying more attention to keeping their families clean and protected. The level of consumption per capita in the South East Region is low compared to Western European markets, so we are confident that those categories will continue to post growth in the next months and years. What will be critical to deliver this growth is to sustain "real" innovation addressing existing and emerging consumer needs.
What advice would you give to your partners to keep growing categories in this crisis environment?
I have lived through different crisis impacting disposable income in different markets. Even if it may not sound as intuitive, always the learning is that consumers in times of crisis want to keep buying the brands they trust because they cannot afford risking spending their money on products which may not fit their needs. In this context it is critical to keep and reinforce the model which has allowed us grow the categories over the past years: focus on innovation at right value, strong communication plans so that consumer understand why it is worth buying the innovation, and strong partnership with retailers to present the products and the innovation in store and on line. A big part of the growth decline in times of crisis is self-inflicted as companies lower the focus on innovation. We P&G are committed to further accelerate innovation and we strongly believe that if we do so we will keep growing our categories in this region.
Do you foresee any changes in your Core strategies especially vis a vis a potential Economy slow down?
At P&G, our model is based on Superiority. Superiority of understanding of the consumers' needs, translated into development of products which meet those needs. Not only this model will not change, but it is clear that in times of crisis this model is even more relevant. Consumers are typically loyal to the brands they trust. Most expectations from consumers on the "job to be done" will not change, but we are very agile and close to consumers to identify emerging needs and we will adapt our products and launch new products whenever we identify new needs and habits from consumers. We are more committed than ever to our integrated strategy of creating noticeable product superiority through superior product performance, packaging, communication, retail execution and consumer and customer value has served us very well when the markets were strong and we are confident it will work well in more difficult times.
During the crisis we have seen shopping behavior changes. Shoppers have tried different retail formats and used online sources more than even before. Thanks to our supply chain capabilities we are well positioned to respond fast to the changing demands of the market, and this is especially important to our business partners and their shoppers who expect to be served with excellence whenever and wherever they decide to shop.
As a summary we will further reinforce our investment in innovation to grow our categories in partnership with our customers and partners.
What are the specifics of South Eastern Europe as a market, consumer mindset and habits?
South-East Europe has been one of the fastest growing regions over the past 2 years in Europe and we have several reasons to believe that we can sustain the growth in our categories in the next months and years.
First, the level of consumption per capita is still low compared to Western European markets, which gives us space to grow. Second, while the total disposable income may decrease due to the crisis, we see that consumers are refocusing more their spending to their homes and their personal care as they spend more time at home and less time travelling. So, we believe that our categories can attract a bigger share of the consumers income in the next months. Last but not least, consumers are very loyal to trusted brands and do appreciate products quality, as their involvement into essential goods is high. We have strong and leading brands in this region, and those brands have been consumers preferred brands for many years.
The current crisis comes with challenges but provided we bring to Consumers superior and relevant innovation on our trusted brands at the right value we are confident that we will be able to keep growing the categories in the region.
Which growth strategies P&G applies in the region?
Let me elaborate a bit on our superiority model. We focus on 5 pillars of superiority – Products, Packaging, Brand Communication, Retail Execution, and Retailers (Customer) & Consumers Value
First of all, we need to have a superior product and packaging. An overall product proposition that is so good, that consumers recognize the difference and the benefits immediately. We are stepping up outstanding brand communications, so as to remind people of our product benefits. We partner with retailers to have a superior and experiential retail execution in-store and online. This is important to our business partners for growing their total category size faster and build their equity towards their shoppers. And finally, we never lose sight of driving superior consumer & customer Value.
In a nutshell, we focus on delivering superiority, fuelled by productivity and leading constructive disruption in our industry.
---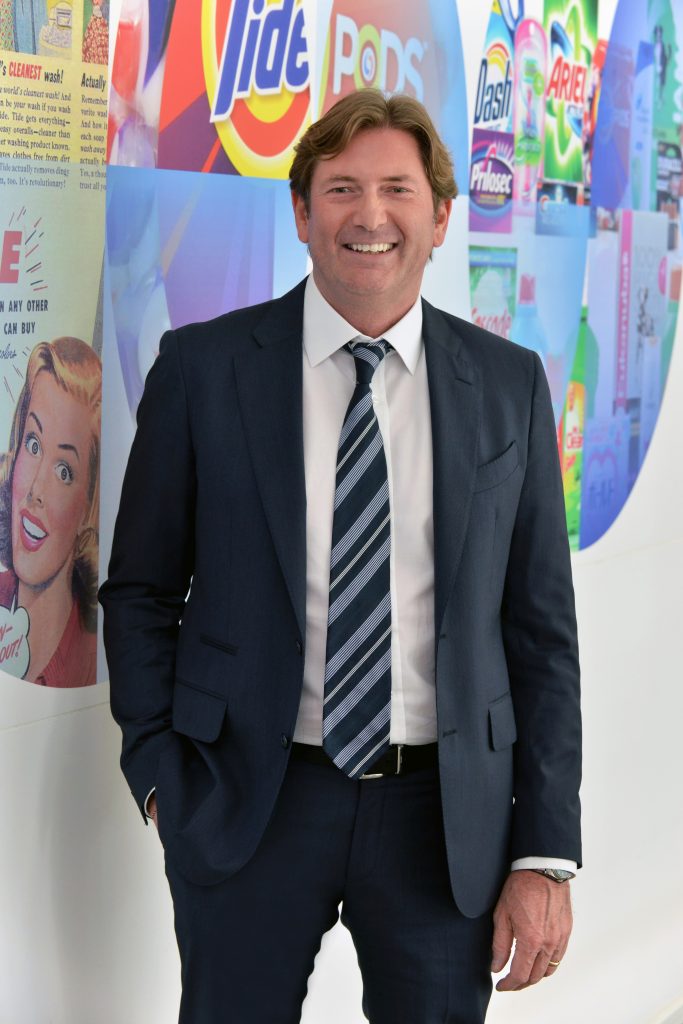 Who is Antoine Brun
Antoine Brun joined P&G in 1995 in France, and his career has spanned across various positions in sales, marketing and management. Antoine has held several senior leadership roles covering many global markets across Europe, Middle East, Africa, and Asia Pacific.
Before taking over the South East Europe region he held the position of Managing Director Australia and New Zealand. Over the 2 past years, Antoine led a broad-based business acceleration across the 10 markets of the South East Europe region via a reinforced focus on category growth through superior innovation.
---
Additional resources
Read the interview in Bulgarian for Dnevnik.bg (Part of Economedia, AmCham Bulgaria member)