On March 17th, 2021 AmCham Bulgaria welcomed five of the new members that joined the chamber in 2020. Due to COVID-19 the team wasn't able to organize physical events, as well as the webinar density in H2 was high. Thus, we decided to organize virtual series – Meet the New Members to introduce all of the new AmCham Members for the past year. In this second edition AmCham Bulgaria introduced:
Olivier Marquette, AmCham Bulgaria President welcomed all participants and guests by saying:
"I'm always excited with these sessions when we meet the new members. Especially today we have five very strong companies and they cover wide range of nationalities, dimensions and sectors and that really shows the diversity of the AmCham community."
He briefly introduced the AmCham Bulgaria highlights for 2021 – "…the year of transition and new objectives since there is a new U.S. Administration and Bulgaria will have a new government soon."
"The Three Seas Initiative is an event in which Bulgaria will take the lead and AmCham Bulgaria will organize a conference to present the status of this initiative and there are three categories of projects – infrastructure, digital and energy. The conference will gather many companies and officials from abroad and we hope as well to welcome some U.S. officials.", AmCham Bulgaria President said.
At the end of his introduction Mr. Marquette reminded all to continue following the anti-epidemic measures, regarding the strong third wave of the pandemic.
Moderator of the event was Daniel Kiryakov, Communications and Public Affairs Manager, AmCham Bulgaria.
---

BCI JSC
First in alphabetical order was presented BCI JSC by Nikolay Saykov, Legal Advisor.
BCI JSC is a Bulgarian company, established with investment purposes in the field of renewable energy sources, mainly in photovoltaic power plants.
"Nothing outshines the sun! With its significant know-how and highly experienced team, BCI JSC is ideally positioned to exploit the fast developing renewable energy market with the use of cutting edge technologies and a full suit of services.", Nikolay Saykov said.
---
Download the presentation from BCI JSC.
---
Jacobs Douwe Egberts Bulgaria
JDE was presented by Ivaylo Chakarov, Country Manager Bulgaria.
For more than 265 years, JDE has been inspired by the belief that it's amazing what can happen over a cup of coffee. Today, its coffee & tea portfolio is available in over 100 countries around the world, through iconic household names including Jacobs, Tassimo, Moccona, Senseo, L'OR, Douwe Egberts, TiÓra, Super, Kenco, Pilao & Nova Brasilia.
Coffee is at the heart of life. It is with us at the big moments and the small. JACOBS DOUWE EGBERTS celebrates life beyond the beverage, putting the coffee cup at the center of the conversation, wherever in the world it takes place.
"In 2020, we focused on our top priorities: our Associates' health & safety and business continuity. By leveraging technology, we were able find new ways of working remotely and continue building our teams. We are agile and resilient and managed to continue offering our consumers the coffee they love.", Ivaylo Chakarov said.
---
Procter & Gamble Bulgaria
Then, P&G was presented by George Carpov, Company Communications & Government Relations, SEENorth/Central.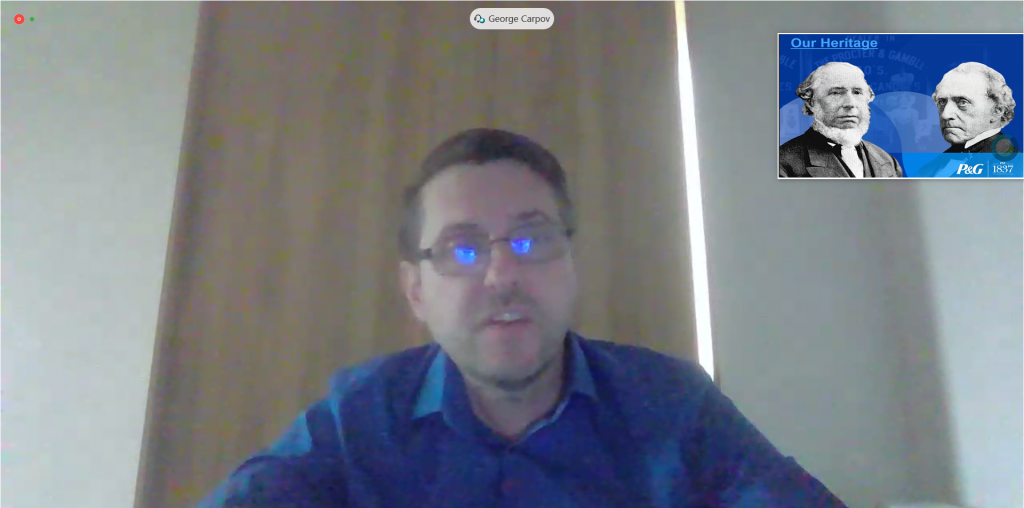 P&G serves consumers around the world with one of the strongest portfolios of trusted, quality, leadership brands, including Always®, Ambi Pur®, Ariel®, Fairy®, Gillette®, Head & Shoulders®, Lenor®, Olay®, Oral-B®, Pampers®, Pantene®, and Tide®. The P&G community includes operations in approximately 70 countries worldwide. Please visit https://www.pg.com/ for the latest news and information about P&G and its brands.
"We are thrilled to be part of Amcham Bulgaria business community, we are confident this will be an exciting journey. Our office was established in Bulgaria in 1994, and since they we have served Bulgarian consumers with the very best innovation available in P&G.", George Carpov said.
---
Sirma Business Consulting
Sirma was presented by Tsvetomir Doskov, CEO.
Sirma Business Consulting (SirmaBC) is a BGN 2.6M joint venture combining the experience of the biggest Bulgarian IT holding listed on the country's stock exchange, Sirma (SGH), with the worldwide banking practice of a team of financial professionals (managers, bank experts and consultants). SirmaBC is the best choice on the market in delivering customized business and IT solutions for small and digital banks and other mid size financial services players. We are bringing a new value of the core banking software and related satellite products to ensure the best customer journey and a high level of business automation.
The company uses its own flexible approach for project management and implementations, while deploying all international standards for quality, security and best practices for systems installations.
The brand Sirma is well known in the professional (BASSCOM and Fintech Association) and business community as a reliable business partner, sharing the values of responsible business conduct.
Download the presentation from Sirma Business Consulting.
---
SMSBump
SMSBump was presented by Georgi Petrov, Founder & CEO.
SMSBump was founded in 2018 with the goal to turn SMS into a powerful marketing channel and profitable revenue stream for eCommerce businesses. Today, SMSBump is a leading SMS marketing solution, servicing over 90,000 online brands. In 2020, SMSBump was acquired by the American company Yotpo in what came to be known as one of the most successful exits of a Bulgarian startup. The company aims to create an all-in-one eCommerce platform that centralizes all marketing efforts and empowers businesses to manage them from a single location.
"Becoming part of the American Chamber of Commerce is a huge privilege for us at SMSBump. We look forward to being more involved with AmCham's great international community and are determined to help improve the business environment, investment climate, and living standards in the country.", Georgi Petrov said.
Download the presentation from SMSBump.
---
Breakout sessions
After the open presentations, members split in five breakout sessions to start their virtual networking.
---
---
Watch the video with the main presentations of our new 5 members.