AmCham Bulgaria's Human Resources and Education Committee held a virtual meeting via Cisco Webex on April 27th, 2021. The main topics of the meeting were job flexibility, remote working, and the challenges of the past year.
The webinar was moderated by Zlatina Kushkieva, Chair of the HR and Education Committee and Managing Partner, HR Consulting Partners.
The speakers shared their experience from the last year: what challenges they have faced, what solutions they have found, and what lessons they have learned.
Snezhana Koleva, Associate Director, People & Culture, Coca-Cola European Partners Bulgaria talked about "Future of work – the challenges of the new normal". Andrea Tognetti, Head of HR, UniCredit Bulbank focused on "Flexibility of work and welfare". Irina Ioncheva, Ph.D., HR Manager, Adecco Group Bulgaria shared their experience regarding "Remote working, corporate identity, and employer branding dynamics".
---
Coca-Cola European Partners Bulgaria
Snezhana Koleva, Associate Director, People & Culture
"Over the last few months, the Coronavirus pandemic has had a massive impact on life – both personal and business and it made us being innovative in the way we work with our customers, consumers, partners and our people to create and successfully provide business continuity and engagement. It has been amazing to see everyone within the organization rise to the challenge of keeping our operations running as smoothly as possible during what has been an unpredictable time. Our number one priority has always been and remains the safe performance and wellbeing of everyone across CCEP and we continue to take daily assessments across all our operations to ensure we care of our people and deliver the best products to all our customers and consumers.", said Snezhana Koleva. She shared that the pandemic brought important lessons and opportunities for every company. The key ones for them include the importance of remaining close to the customer and consumers, demonstrating reliability and solid management of their operations, and keep their people safe and engaged.
Download the presentation of Coca-Cola European Partners Bulgaria.
UniCredit Bulbank
Andrea Tognetti, Head of HR
"Covid Crisis accelerated digital transformation and modified customers and employees behaviors. Remote working, really appreciated at the beginning of the crisis, is now becoming a real pain point and several colleagues want to come back to normality and physical environment. Indeed I do believe that the lack of freedom is the real issue. Point is to have our colleagues in the center and give them possibility to take a choice consistent with their needs and the business ones. For us it utmost important because approx. 75% of our colleagues are ladies, and approx. 10% of our workforce is in maternity leave. To create an environment which support MoMs and DaDs in the moments that matters in their life is crucial, to give them the possibly during the parental leave to stay connected with the working environment, to be updated about the life of the Bank, to have flexibility and a proper onboarding when the long term absence finish, to preserve their job and career is our duty and responsibility.
When we talk about flexibility and employees' experience, we need to move from the standard rewarding frame based on salaries, bonus, benefits and perks to a more flexible welfare system which consider that our colleagues have different needs. We need to move from a context where we provide one or more services which fit with all, to an environment where our employees could select among several services based on their personal and professional life cycle. Here a dedicated taxation frame in the next future could help and stimulate the employer in providing more services useful for our citizens and consistent with the current and future challenges (e.g. health, pension scheme, green economy).", said Andrea Tognetti.
Adecco Group Bulgaria
Irina Ioncheva, PhD, HR Manager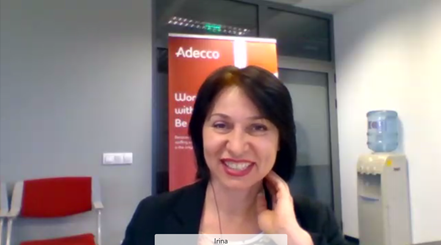 "With the global pandemic shaping the business environment and peoples' private lives in the last 18 months, we continually experienced the effects of the pendulum movement called "flexibility". Flexibility is the new buzz word for uncertainty and we at Adecco had to give a top priority to several key competitive areas to ensure business but also psychological stability for our teams:
Support and protect our employees by applying different working schemes and locations
Promote leadership towards Management by Objectives and strong KPIs
Stay strongly focused on H&S, incl. mental health
Re-shape of the concept for Work-life balance/boundaries
Carefully monitor how the sense of increased freedom balances out the increased workload and if necessary intervene to prevent burnout
Digitalize all our processes
We have put extra efforts and in a concentrated way to build employee experience in alignment with our EVP:
Redesign talent attraction and emphasize on on-boarding
Adjust training initiatives to support development but also reintegrate and restate our values
Keep H&S a top priority
Communicate, connect, cooperate., Irina Ioncheva pointed out," shared Irina Ioncheva.
Download the presentation of Adecco Group Bulgaria.
---
Watch here the full video from the webinar.