Bulgaria's position with regard the corruption perception has increased, and with regard the innovation index our country holds one decent place, however there is room for improvements. This was said by Daniel Kiryakov, Communications and Public Affairs Manager at AmCham Bulgaria, in a commentary about the outcomes of the U.S. State of Department Investment Climate Statement 2021, where Bulgaria is present among 170 other countries. Daniel was hosted by the anchor Ivaylo Lakov in "World is Business" Show on Bloomberg TV Bulgaria.
"We witness some progress with regard the output of innovation – there are innovative products and services, made in Bulgaria."
However, Bulgaria ranks 3rd in the 3rd group in the Global Innovation Index. We return our 2018 ranking and we are moving forward, but generally speaking Bulgaria is in "moderate stagnation".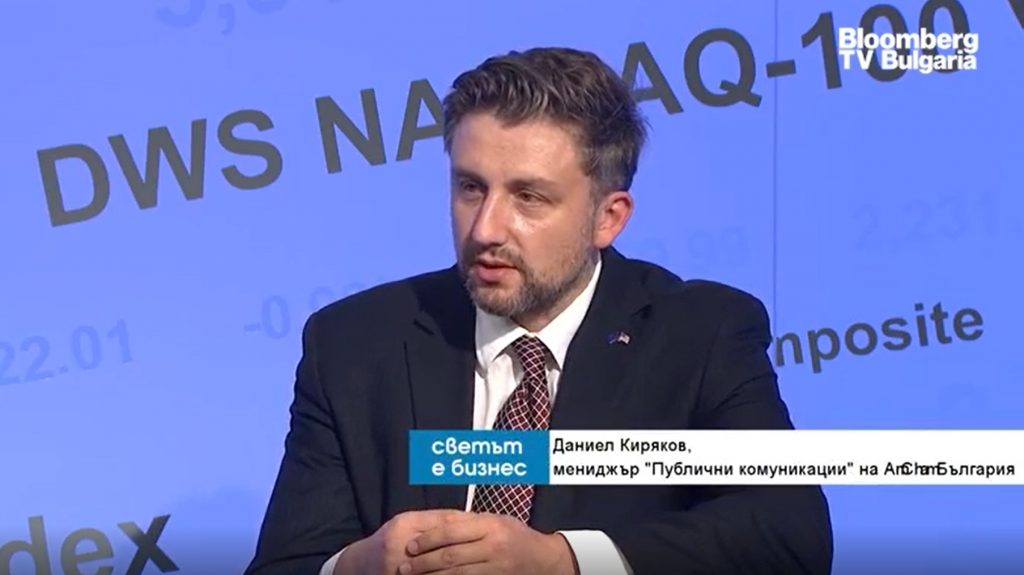 This report can be read as partnership pushing, Kiryakov said. This is a moment picture of the condition of Bulgaria as a place for doing business as well as it can be seen as a guideline to any government where the country reforms well and where it doesn't. It can be a starting point for reforms based on the KPIs for investment environment improvement. The report can be used by investors as a handbook – it includes all good things achieved so far by Bulgaria with regard the business climate and taxes. This paper is not about pure criticism only, pointed out Kiryakov..
If we have to compare Bulgaria with its neighbors Romania or North Macedonia in terms of doing business – we are slightly lagging. With regard the power purchase parity – based on the report we are tailing off too.
The U.S. Department Statement includes many areas such as regulatory framework, judicial system and its ineffectiveness, comlains from businesses — not only American but multinational too. It was stated that the judicial system is used for presure on businesses or procrastination of some court cases.
Daniel Kiryakov commented the recently hosting by Bulgaria of The Three Seas Initiative, July 8-9th, 2021. Despite the political hurdles prior the Summit and Business Forum, Bulgaria positioned itself as a destination that business is worth to speak about. The expectations of the Bulgarian business is to have benefits from the 3SI Investment Fund. Kiryakov enlisted the institutions which organized this high-profile event: The Presidency of Bulgaria, the Ministry of Economy, the Small and Medium Sized Promotion Agency, the Bulgarian Development Bank, as well as AmCham Bulgaria which was co-organizer of the 3SI Business Forum.
"We have to do our homework, said Kiryakov. "What is way to structure a project by combining the innovativeness, digital and our people talents so that it can be beneficial for the 3SI region. It is clear that nation-wise projects will not be funded."
With regard the political situation in Bulgaria, Kiryakov pointed out that the expectations are a new government to be formed soo, which mandate to be long-term. Business expects stable political environment, as well as fight with corruption. Innovations and investments do not happen where the business environment is "not clean".
"Democracy requires efforts. Democracy requires fight with corruption."
Brave dreams of data centers, transport connectivity, innovative solutions and industrial zones will be build on this solid foundation, pointed out the expert.
"There is some optimism for hope that we are mature enough to reach the moment where the national priority will be positioned first, not the private ones."
In conclusion, Bulgaria should answer the question on what we should base and develop our economy – should it be on automation, on knowledge, on high-end technologies or we aim to be just a part of the global supply chain.
---
Watch the full conversation here
---
Read the U.S. Department of State 2021 Investment Climate Statements – Bulgaria